Human beings have had, since their existence, a way of surviving different from that of other animals, adapting the world as much as possible to their needs instead of conforming to them. This ability to transform has made it a thriving species, but the progress hasn't come for free. The invention of agriculture allowed the appearance of large cities, literature and all the glories of civilization, but it also drastically reduced the variety of foods and linked the majority to the culture of the land. Over the past few decades, accelerating technological advancements and sedentary lifestyles have multiplied obesity and diabetes rates, modern life appears to be increasing mental health issues, and electronic devices are destroying sleep. In a recent book, Jennifer Heisz, a brain health specialist at McMaster University in Ontario, Canada, offers an almost universal answer to all of these civilizational problems: exercise.
In Move the body, heal the mind (Move the Body, Heal the Mind), Heisz makes a proposal that blends converted faith, the "it works for me" appeal, and scientific justification, and can explain why so many people, especially those just starting out, mature with sport, they talk about it as a transformative experience. The scientist, who now runs her university's NeurofitLab, a laboratory dedicated to evaluating the benefits of exercise on mental health, tells how sport, which she fell in love with in her forties, helped her in a moment of vital crisis after a separation. So much so that he even shifted his research from other aspects of neuroscience to studying the effects of movement on the brain. "My practical, evidence-based approach," he promises, "will help you improve your brain health through exercise." He adds, "You will be fully equipped with a set of exercise skills that will help you achieve more endurance, a more positive attitude, be more focused, be more productive and have more satisfying relationships. Yes, you can have it all!
Despite this crazy optimism, Heisz begins by explaining, in part, why exercise can be so expensive, especially in the beginning. For the first time in human history, too much food is more dangerous than too little, and for hundreds of thousands of years the tendency to avoid unnecessary expense and take advantage of any available energy source could have been a positive factor for survival and transmission. genes to the next generation. However, in a world of abundance and long life, these inclinations become burdens. It is estimated that one and a half million people die each year worldwide from diabetes, a disease almost absent from pre-industrial societies. An article published this year in the magazine PNAS He even suggested that the value of grandparents in raising their grandchildren promotes the ability of humans to maintain good physical condition past their prime reproductive years, and also that exercise is so positive in old age. .
In his plea in favor of the movement, Heisz recalls that it is a "medicine" in which everyone must find the right point of effort, without comparing himself to others, and assures that, according to the data obtained in his lab, a light walk half an hour three times a week reduces anxiety, and the benefits can be increased gradually by increasing the intensity or duration of the sessions. Later, the researcher recalls studies such as an article published in The American Journal of Psychiatry, in 2018, which calculated that at least 12% of future cases of depression would be prevented if everyone got light or moderate exercise for at least one hour a week. This study also shows the limitations of studies that investigate the relationship between exercise and better mental health, as the benefits found in depression were not found in anxiety.
The director of the NeurofitLab also mentions the possibility of substituting, at least in certain cases, antidepressants for exercise. This type of medicine, whose consumption has increased in Spain by 6% between 2020 and 2021, has been prescribed with increasing frequency over the past two decades, "especially for mild forms of depression that may not meet the criteria clinicians," says Heisz. For these mild mood disorders, the researcher finds it best to assume that some level of discomfort can be overcome without the need for medication. Partly because it is assumed that "low levels of serotonin cause all mood disorders", which is not true and means that for a significant percentage of people with depression or anxiety, drugs created with this premise are not effective.
For Heisz, the production during exercise of neuropeptide Y, linked to greater resistance to anxiety, or the anti-inflammatory effects of physical activity, which would reduce chronic inflammation which has been linked to many symptoms. depression, could explain the positive effects of sport in this type of mental disorder. Although there are studies that support the possibility of anxiolytic or antidepressant effects of sport, even compared to antidepressants for some patients, it has not always been easy to find clear effects or a causal relationship, or to discern how well the person able to overcome a bad emotional moment to go for a run wasn't really that bad. Some recent studies, however, succeed in establishing this robust and causal link between exercise and a lower risk of depression.
Mental health is a complex issue in which, in addition to the immense biological diversity and the lifestyles of the population that influence it, we lack the tools to know precisely the individual risks or benefits of each or how to treat each ailment. effectively. Heisz goes on to talk about the benefits of exercise for sleeping better, being more focused at work, or escaping addictions. Beyond the explanations of the mechanisms by which movement can have these effects, we know that all these factors of life are linked. People with mood disorders tend to use more toxic substances which, in turn, make these problems worse. If it can be incorporated into a routine, frequent exercise can be a way to bring order to life, in addition to obtaining physiological benefits such as less chronic inflammation or segregation of substances that promote sleep.
Rafael Tabarés, professor of psychiatry at the University of Valencia, confirms that "the evidence for the benefits of physical activity on mental health is very strong. Whether you go for a walk in your free time, go to work, or embark on more systematic exercise at a gym, it can be helpful in preventing depressive or anxiety symptoms," he adds. . Additionally, Tabarés points to studies that show the value of physical activity as an adjunct to pharmacological treatments for depression and its value in reducing relapses when the pills are removed. "From my perspective, the big problem we have is that despite the amount and quality of evidence for the benefit of exercise, it's not being used with patients," he says. According to him, doctors should have the time to cooperate with other professionals, "because this type of activity should be applied by graduates in physical education or physiotherapists", and there should also be more reliance on the patient, to inform him that these alternatives exist.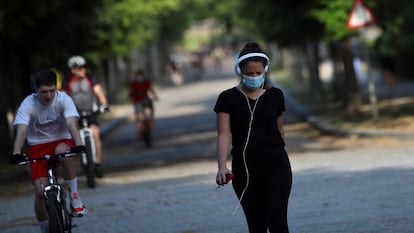 This transformation of the system, towards a system that in addition to treating disease promotes health, requires resources and better coordination, but the incorporation of physical activity has already shown its value in the treatment of certain diseases such as cancer. . Alejandro Lucía, a physician and researcher in exercise physiology at the European University of Madrid, has observed the benefits of exercise as an adjunct to chemotherapy in cancer patients, and believes it would also be useful for mental illnesses. Like Tabarés, Lucía believes that "specialized professionals could be incorporated, just as there are physiotherapists or nursing staff", since "exercise has better results with supervision, especially in patients who may have more great difficulties, such as those who suffer from mental illnesses". "It is expensive, and prevention is the bad side of medicine, but the incorporation of these professionals can help people who suffer a lot," he concludes.
As Heisz collects in his book and other experts point out, the benefits of exercise for the body and mind of almost everyone are diverse and clear. But you should be aware that for many the path to a more active life will not be easy and there will always be a better chance of success with patience and outside help. As the researcher from McMaster University acknowledges, 40% of people who start exercising have stopped before three months, and numerous studies show that people with depressive or anxiety disorders are more likely to sedentary life. Among the tips that the book offers to start and stay, some of the most obvious: find an enjoyable exercise and, if possible, do it in company; find your own pace and focus not on the end goal but on the process. For people with diagnosed illnesses who find it more difficult to be physically active, the change will come when, as Tabarés and Lucía mention, they become aware of the vast amount of accumulated evidence on the value of exercise in mental health and professionals will be integrated into the system. that can take advantage of a hitherto under-exploited potential.